What is a brand ambassador?
A brand ambassador is typically referred to as a positive spokesman, an opinion leader, or a community influencer who is hired as an internal or external agent to increase product or service sales and raise brand recognition.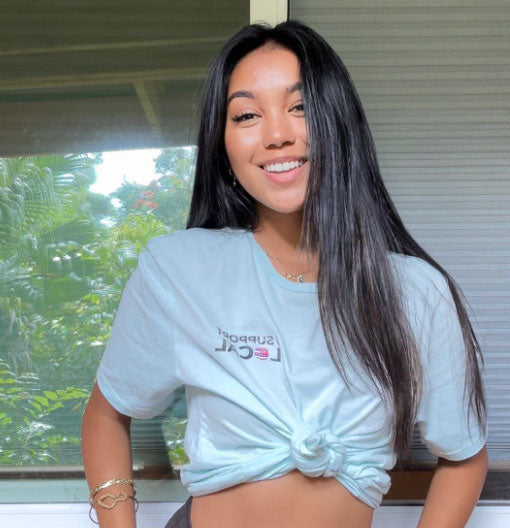 Many people, including our loyal customers, have inquired about what it takes to become a brand ambassador. Keep in mind, every brand has its own unique requirements and expectations for brand advocates, influencers, content creators, and collaborators. 
As a potential Hawaiiverse Ambassador, it's important to us that your passion align with ours. Ideally, you are someone who has an appreciation for local products, businesses, and people. 
The Ideal Hawaiiverse Affiliate/Ambassador has the following qualities: 
A passion for their local community: A genuine affinity and passion for our local community is crucial for a Hawaiiverse ambassador. Ideally you are someone who prefers supporting hometown businesses and products. 
Knowledge of the local scene: A good Hawaiiverse Ambassador is a community enthusiast who has an in-depth understanding of their local area and the unique culture, people, and businesses it has to offer. 
Makes creative & engaging content: All social media platforms are accepted. 
An engaging social media presence: An active, vibrant, and consistent presence across social media platforms, accompanied by a dedicated and engaged following, can amplify the reach and impact of Hawaiiverse and our community message to support local. 
All Ambassador roles combine their passion for their local community, their social media expertise, and their sales skills to promote the brand of Hawaiiverse as well as their commision based code they, and their followers, can benefit from. 
Both Ambassador roles cultivate a community of people who have confidence in your recommendations and lean on you to help them discover products worth purchasing. Both roles require a level of transparency by openly and honestly endorsing brands you believe in and partner with including that you post an affiliate sales commission. 
Ambassador: Typically Ambassadors are entry-level representatives who are beginning their journey with Hawaiiverse. They are champions of their community who love discovering new local products and are effortless in spreading word about the things they love to invest in. 
Senior Ambassador: Senior Ambassadors are experienced individuals who have worked with Hawaiiverse for an extended period and have proven their dedication and effectiveness. All Ambassadors have the opportunity to become Senior Ambassadors. 
Content Contributor: Content contributors are members of the community who already create local based content and would like to share that content with Hawaiiverse and our community. They can be bloggers, photographers, social media mavens; anyone who already makes interesting, engaging community based content that can be shared across our social platforms. 
Rather than a commission based code, Content Contributors receive sponsorship for their post whether it be a reel, tiktok, blog post, etc. to be featured on our platforms. A content contributor can also be an Ambassador.  
How to work with us?
It's as simple as filling out an application here. 
After you submit your application, a team member will reach out to you with details and next steps. Please allow 5-7 business days due to the volume of applications we receive on a daily basis. 
Questions? Please email us at chanel@hawaiiverse.com